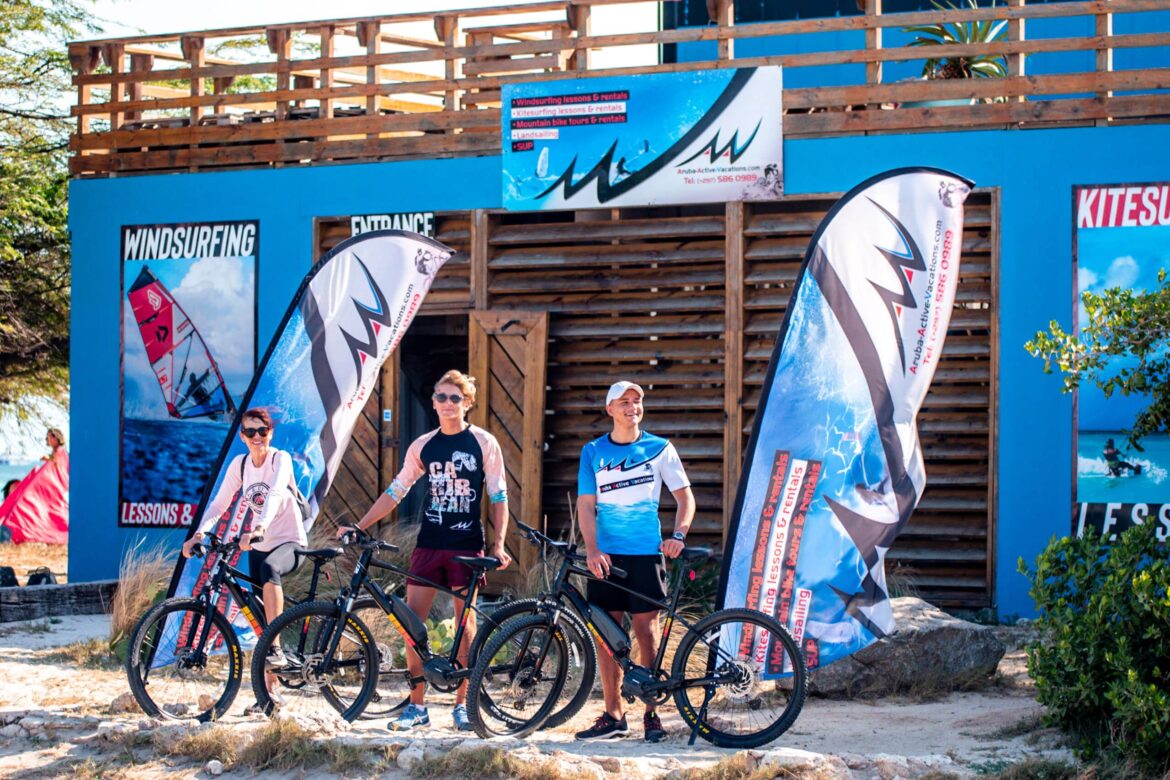 Power up with the E-mountain bike!
For extra power and extra miles, rent an E-BIKE! Our Marin E-bikes are the perfect way to discover and see more about Aruba, as you can get your work-out while enjoying the landscape to the max! You decide how much support you want, and you can alternate during the ride! Our E-bikes makes everyone enjoy the ride even MORE, since you simply cover MORE distance and see MORE of the island!
What is an E-mountain bike?
An E-bike is an electric mountain bike, that provides "pedal assistance'. It's a mountain bike with a small battery that can be charged and gives you support when you ride the bike. The amount of support is up to you; you control whether you have no support to lots of support. E-bikes are for every age group, as you get in much more speed and sightseeing with less effort. As the mountain bike trails are often technical, hilly and full of obstacles, the subtle extra support that you get while pedaling is perfect to keep full control and still get that special kick of mountain biking.
Why would I rent an E-Mountainbike?
Rent an E-bike for the following reasons: you want more speed, or more support, you want to cover more distance with the same effort as a regular mountain bike. These are all the great reasons to rent an E-bike, you wouldn't understand why someone is still riding a regular mountain bike any more. The amount of sightseeing you can do is bigger, the biking can be easier on your body, and you could have an easier time climbing up hills. Yet still you are doing those beautiful, tiny trails that bring you so close to Mother Nature. Life has never been better on an E-bike.
How do we know about E-Bikes?
Our colleagues at the sister company
FX Sports Aruba
did the full training course about Marin E-bikes, so the bike mechanics know exactly how to treat the bikes. We deliver the bikes fully charged to you, to let you enjoy their capacity to the fullest.