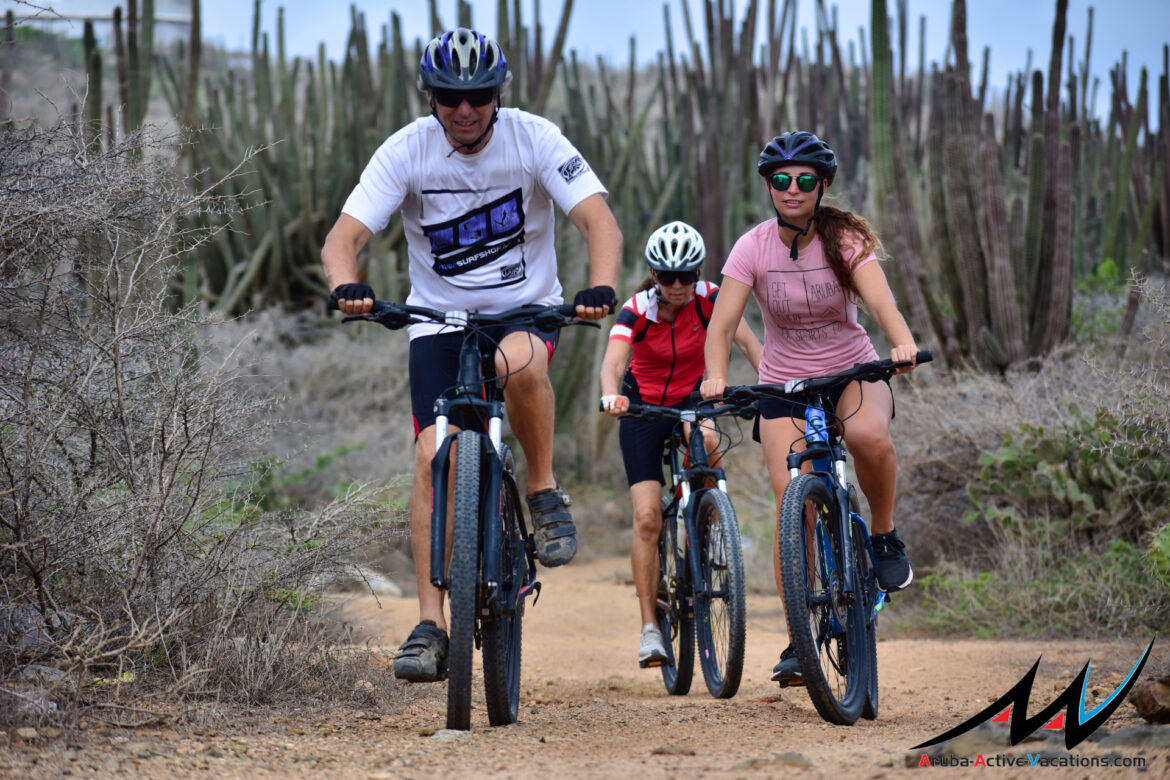 Rent a Mountainbike or book a Bike tour
If land adventure is more your vibe, hop on a mountain bike and experience the true treasure of Aruba: unspoiled nature and beautiful trails through the cactus-studded countryside and along the wave-battered coastline. If you'd like to have a guided tour, we can happily accommodate your level and preferences. Our tour guide will make sure you fall in love with our "rock" as well. You can also rent bikes and adventure out on your own. Either way, the endless trails give you the perfect workout in an awe-inspiring, peaceful setting. For all ages above 16 years.
Book our Mountainbike Tours
Our mountain bike tours are guided by local bike experts who know the lay of the land and can adjust to all rider levels. Our standard tour highlights Aruba's natural beauty and several popular island attractions. Taking riders along the tranquil leeward coast to the German shipwreck and the California Lighthouse. Along the turbulent north shore towards the charming Alto Vista Chapel, and then inland through Aruba's rugged outback. And lastly returning you back to the beach at Aruba Active Vacations. The tour takes two hours, including water and sightseeing breaks.
Advanced riders can opt to take the many single-track trails that the north shore has to offer. We have SPD pedals available, as well as the option to upgrade to a premium bike with advanced components. Our bike experts can adjust to any speed and technical level, as they are competitive riders (and some bike mechanics) themselves!
With all bike tours, it is mandatory to wear a helmet. All bike guides travel with a phone and have their first aid & CPR certification. Make sure to bring water!
Rent a Mountainbike
If you want to explore our "rock" by yourself, we have Cannondale, Giant, and Marin mountain bikes available for rent. We offer bike drop-offs and pick-ups at the low-rise and high-rise hotel area for a one-time fee of $5.
Our standard bikes have suitable components for beginner or intermediate bikers. They are equipped with enough gears and good suspension to enjoy a comfortable bike ride through any terrain.
Our premium bikes have upgraded components (tires, shocks, and gears) for the advanced and competitive rider. Bring your own SPD pedals or use ours. So bring your bike shoes so you can maneuver through the many single-track trails set out by our local bike addicts.
All bike rentals come with a helmet and number lock and our telephone number is on every bike to call us in case of trouble. We recommend bringing padded cycling shorts to be fully at ease while cruising the beautiful off-road trails, or visit our
local bike shop
for bike shorts and everything else you need. Their special bib shorts with the Aruban flag make the perfect souvenir!